Custom-made wooden canoes
Freeranger Canoe builds wooden canoes that combine traditional designs en materials with modern epoxy composite technology. Our durable wooden canoes are strong and light. They have excellent paddling properties. A wooden canoe is a heirloom to be passed down to your children and grandchildren. The elegant lines and the glow of the wood give them an exceptional, timeless beauty.
Handcrafted wooden paddles
In addition to our canoes we handshape a line of lightweight and strong laminated wooden paddles. They lift the canoeing experience to an even higher level. The traditional, time-tested design, and the warm silky feel of the wood are unmatched. Our selection of wooden paddles will appeal to the recreational paddler but also to those who require strong and reliable paddles for trekkings and longer trips.
Hands-on canoe building workshops
For canoeists who want to experience the joy of paddling an entirely self-built canoe we're offering comprehensive canoe building workshops year round for individuals and groups. Our workshops are hands-on and require no special skills. Anyone can participate, young and old, woman or man. Although building a wooden canoe is a time-consuming enterprise, it is very rewarding. Nothing paddles better than your own hand made canoe!

Upcoming Events
List of Events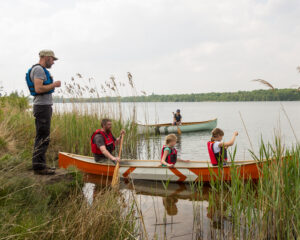 There's nothing better than being able to paddle a canoe but what's so special about it? We invite you to find out with this introduction to canoeing course. Whether you're starting a new outdoor activity, hobby, or needing to refresh your paddling skills from the years past, this course has been designed to satisfy all. We focus on the basic functional skills needed to get you safely started and continue your skill development.

+ Export Events
From the blog: paddling the Weerribben-Wieden National Park
For multi-day canoe trekkings in Europe you have to go to Sweden. At least that is the widely held opinion. Well, for those who don't want to drive endless kilometers, there is good news. The largest peat bog area in northwestern Europe is located barely 300 kilometers from Brussels. The Weerribben-Wieden National Park is a true canoe paradise every paddler will fall in love with. During these corona times we went canoeing in the Weerribben-Wieden and we don't regret it.