A binder full of dreams
People sometimes ask me wether it doesn't get boring to build one canoe after another and I have to admit, it doesn't sound very exciting. What makes it fun and exciting are the people behind those canoes. They spend an average of 100 hours passionately working in our shop and during that time a bond is forged. Some are canoeists and others are just people who want to build something beautiful or something that lasts. Behind every canoe that leaves our workshop there is a story and, for me often times, beautiful memories.
Sometimes those stories are really special and Rob's is one of them. Rob announced himself by telephone as a longtime canoeist with special wishes. That can go both ways, but special wishes can sometimes be of the annoying kind, so I was on my guard. In any case, on a crisp Saturday morning, Rob came walking into my shop with twinkling eyes and a hefty ring binder full of papers under his arm. His documentation, I soon learned, collected over the course of thirty years. A folder full of dreams that completely enamored me. There were newspaper clippings, plans, copies from books and self-drawn decorative motifs. I couldn't refuse him anything. That's how Rob took over our shop and realized a dream that he cherished for years: his self-built wooden canoe. Appropriately, he built a Bob's Special, one of the most popular Chestnut models. It has become a jewel of a canoe for a special person, we now call him Rob's Special!
Rob's Story - building a Bob's Special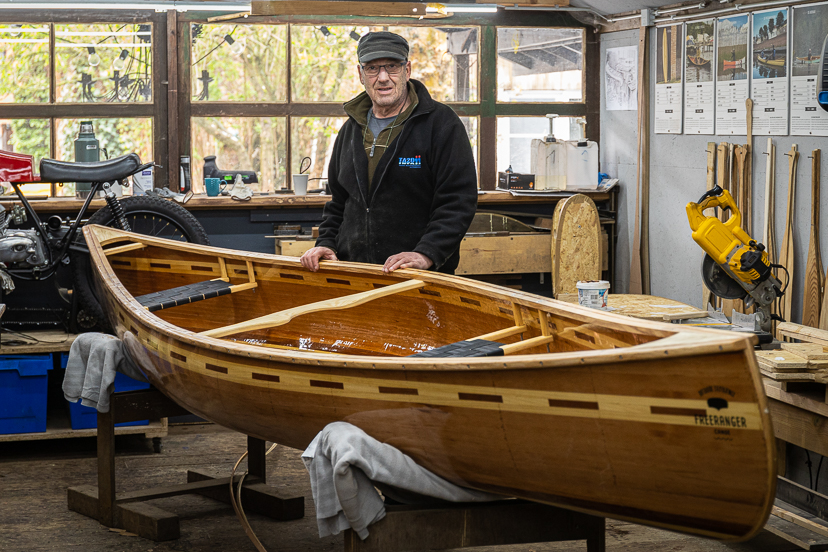 Summer 1971. As a 13-year-old boy I went camping in the Ardennes with our neighbors. Our tent stood on the banks of the Ourthe in Barvaux. On a rainy morning, two Canadian canoes passed by. I stood with my eyes and mouth wide open, looking at it in silence. I want to do this one day, go down the Ourthe with a canoe.
In the late 1970's when I started working, every day I drove past a villa with a large pond and a green Canadian canoe. I couldn't take my eyes of it.
In 1983 I built my first surfboard out of polystyrene foam and glassed with epoxy. Afterwards 3 more surfboards were built. The owner of my surf and sailing shop was a boat builder. He asked if I was not interested in helping him every now and then in the evenings. I first helped build a wooden Fireball, later a few Optimists and a 4.90 m polyester sailboat were added. I started to know the tricks of the trade.
At the end of the 80's it started to itch and I took the plunge and drove to the villa with the large pond. I was allowed to borrow the canoe for a month to make a mold of it. At the boat building workshop I made a mold of the green canoe and used it to make my own canoe.
We paddled the Ourthe several times. It was very special when I went paddling with my father and my daughter in the canoe in Willemstad on the Hollands Diep.
From 1995 to 2014, the canoe has been stored and was no longer used. Fortunately I never got rid of.
When I moved to Schoten near the canal in 2014, everything accelerated. I dusted off the canoe and it became my regular go-to. For many hours I went paddling on the Schotense canal and explored the Biesbosch. From time to time, going out for a few days by canoe to camp somewhere quiet.
It started to itch again, I wanted to build a wooden canoe. I started browsing the internet. When I met a canoe builder somewhere in the Netherlands during a sailing trip with friends in 2019, I said: "When I retire, I also want to build a wooden canoe like this. Someone replied: "Rob, don't wait for your retirement, you have to do that now."
In 2020 I met Bart, a canoe builder from Olmen and joined forces with him to take a workshop with him and build my own wooden canoe under his guidance. A Bob's Special.
Construction started in mid-February 2021 and was completed at the end of March 2021.